Check out other citizens' Mood Gems to gauge their moods.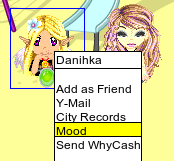 To learn more about how they feel, double-click them in chat rooms and select Mood. From the Mood Pop-up, send a free animated projectile to show you care!
If enough citizens share and care about moods each week, every participant will get a daily surprise clam bonus for the next 7 days!