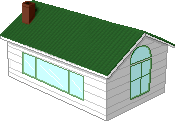 OK, great! You have chosen to build the house and run it for .
Your goal is to design this house so that it can run for spending less than .
To design your house, click on each part of the house and configure it. For instance, click on the roof and then select the roof material. You'll need to do the same for every part of the house and all the appliances. Some appliances have additional options, such as the water heater, which requires you to decide on a water temperature.
You'll see three tabs: Materials , Appliances , and Summary.
The Summary tab shows you how each item contributes to the overall cost.
Remember: For each appliance, there will be a cost to buy it and a cost to run it. You must configure all your outside materials before you will find out how much it costs to run your appliances because their efficiency depends on how well insulated your house is.